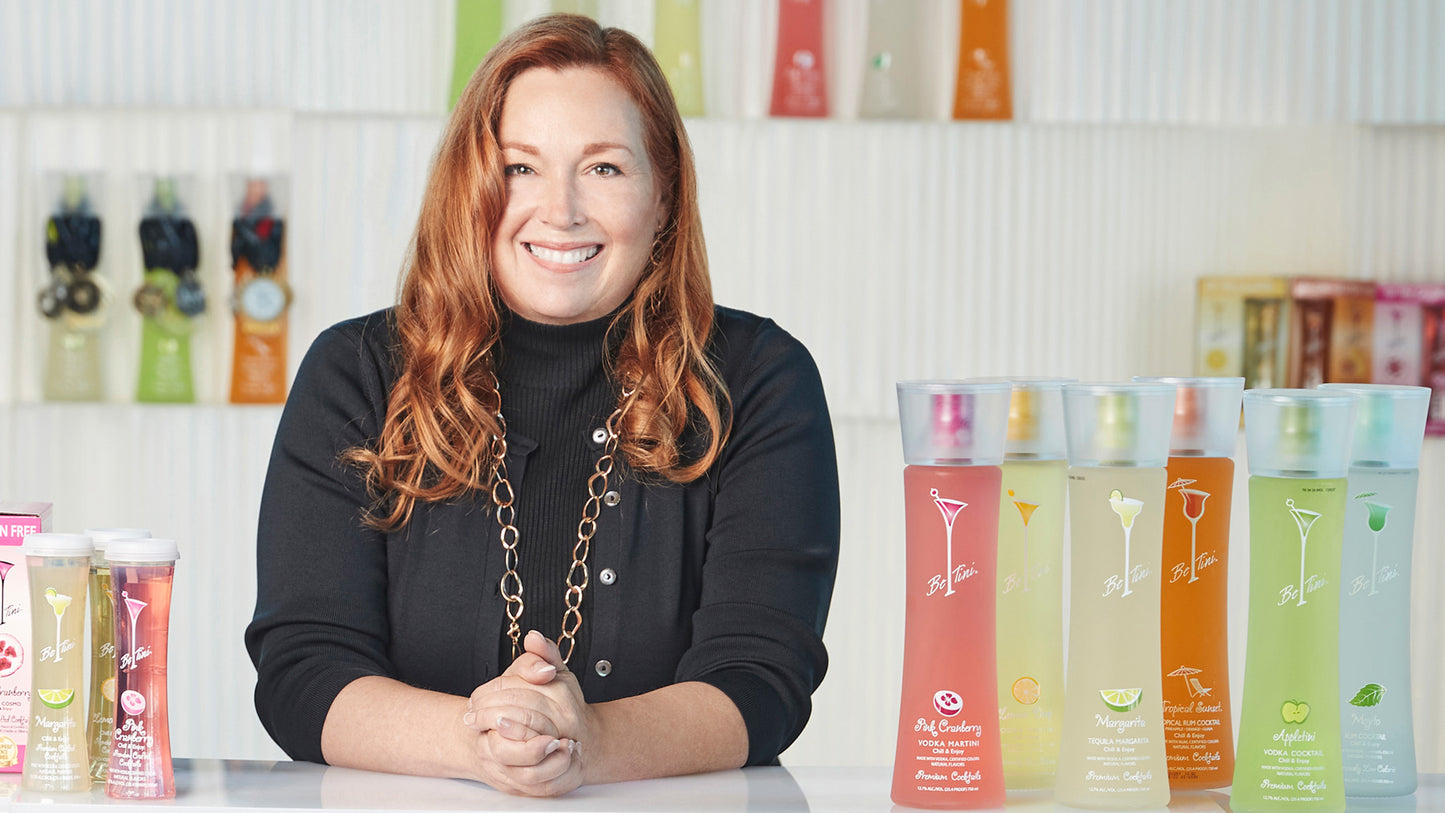 Julie Stevens, Founder
√ Be spirited
√ Be on a mission
√ Be funny, be happy, be real
√ Be delicous
√ Be shaken, not stirred
√ Be noticed
√ Be adventurous


Be spirited
BeTini Spirits is an award-winning, premium-crafted, ready-to-drink cocktail brand, founded & designed by Julie Stevens. Created by the desire to enjoy a cocktail with friends anywhere, anytime - no preparation required. Launched in 2015, BeTini has made a splash with consumers and within the spirits industry, with its woman-owned & run, boozy top-quality cocktails.

Be on a mission
BeTini is on a mission to bring friends together to celebrate the little things in life, make memories, have fun and lift spirits, with our beautifully-crafted cocktails.

Be funny, be happy, be real
BeTini Spirits is a cocktail that you're proud to serve and happy to receive. A real, ready-to-drink, top-quality cocktail, made with premium spirits in six deliciously refreshing award-winning flavors: Pink Cranberry Vodka Martini, Appletini, Lemon Drop, Margarita, Tropical Sunset and Mojito.

Be delicious
Delight in a delicious drinking experience, without any guilt. BeTini is low-calorie, low-carb, gluten-free, made with natural flavors and naturally sweetened. BeTini has received numerous awards from the SIP Awards, PR%F Awards, Wine & Spirits Wholesalers of America, and the Los Angeles International Spirit Competition for its six exceptional flavors.

Be shaken, not stirred
Enjoy BeTini, as a chilled boozy beverage, either served on the rocks or straight up in a martini glass. If you want to mix it up, you can add various ingredients to BeTini and create your own signature cocktail.

Be noticed
BeTini tastes, as beautiful, as it looks. BeTini's sophisticated, frosted hourglass-shaped bottle, offers a high-end experience for cocktail lovers. The contoured bottle cap is designed to be used, as a bottle opener and a martini glass.

Be adventurous
BeTini's newly-launched BeTini Minis introduce low calorie, ready-to-drink, four packs of recyclable 200ml PET bottles. The popular and super fun BeTini Minis are the ideal size for active lifestyles, so you can take happy hour al fresco. The refreshing on-the-go cocktails are perfect for enjoying with friends at a picnic-in-the-park or pool party, at the beach, sailing, on the golf course or at a music festival.

Be fabulous
Julie Stevens, Founder & Product Designer of BeTini Spirits was inspired by her girlfriends to create a delicious, ready-to-drink, low-calorie, low-carb, top-quality cocktail for women. Julie thoughtfully-crafted BeTini's premium cocktails and also designed the beautiful branding, packaging and hourglass bottle. Being a serial entrepreneur and passionate product designer, Julie's involvement in the creation of BeTini includes everything from taste-testing to bottle and package design. Pouring 100% of her colorful creativity, design and love into a bottle. Julie has designed many products, including golf products, furniture and cocktail glasses. Julie also created the exquisite interior of her home in California. Julie is most proud of her delicious creation, BeTini Spirits. Her future goals include a mission to support women starting their own business and empowering female entrepreneurs on their startup journey.